Operaatio Protective Edge käynnistyi Hamasin alettua ampumaan rakettejaan kesäkuussa Israelin siviiliväestöä kohtaan niin että pelkästään 7 heinäkuuta 2014 70 rakettia ammuttiin Gazasta kohden Israelia päättäen "meet quiet with quiet" politiikan Gazan alueen ja Israelin kesken.
Tämänhetkinen sota noudatti samaa käytäntöä, noidankehää, dynamiikkaa kuin aiemmatkin Gazan konfliktit 2008-2009 ja 2012 eli Hamas haluaa profiloitua vahvana palestiinalaisten edustajana ja ampuu rakettejaan Israeliin, Israel vastaa ilmaiskuin ja tarvittaessa maaoperaatioin, kansainvälinen yhteisö lähettelee pahaksuvia lausuntojaan. Kun Hamas voi esittää kannattajilleen jonkin symbolisen voiton ja Israel uskoo tuhonneensa parin vuoden rauhallisemman ajan takaavan määrän Hamasin hyökkäyskalustoa ja -rakenteita on aika kypsä Egyptin/Turkin/Qatarin välityksellä solmitavalle tulitauolle jonka jälkeen ryhdytään USAn johdolla valmistelemaan jälleen uutta neuvottelukierrosta vanhoin ideoin.
Käynnissä olevassa sodassa on nyt ilmennyt muutamia erityispiirteitä poikkeuksena aiempaan kaavaan jotka myös arvioni mukaan pidentävät konfliktin kestoa pari-kolme viikkoa. Näistä erityispiirteistä korostaisin kolmea tekijää: Hamasin lisääntynyt hyökkäyskapasiteetti, ironisesti sen pienempi sotilaallinen ja poliittinen vaikuttavuus ja gazalaisten siviilien ja taistelijoiden kuolinsuhde.
Kapasitteettilisä 1: Uusi raketteja
Tämän uusimman konfliktin aikana Hamasilla on ensi kertaa käytössään pidemmän kantaman raketteja – Khaibar-1 aka M-302 – joiden takia liki koko Israelin väestö on tulietäisyydellä.
Myös Hamasin aiempia järjestelmiä on kehitetty laadultaan ja määrältään. Israelin tiedustelu on arvioinut Hamasin ja Palestiinan Islamilaisen Jihadin rakettiarsenaalin seuraavaksi:
Lyhyt kantama (15-20 km)
Yli 2000 yksikköä itse tuotettu raketteja (15 km)

Yli 3500 yksikköä salakuljetettujen rakettien (15 km)

Noin.

500 yksikköä itse tuotettu Grad raketteja (20 km)

Noin.

300 yksikköä salakuljetettuja Grad raketteja (20 km)
Keskipitkä kantama (jopa 45 km)
Noin.

400 yksikköä itse tuotettu parannettu Grad raketteja (45 km)

Noin.

1600 yksikköä salakuljetettujen parantunut Grad raketteja (45 km)
Keskipitkän kantama (jopa 80 km)
Yli 500 yksikköä itse tuotettu keskipitkän kantaman raketteja

Fajr-5/M-75

Useita kymmeniä raketteja

Fajr-5/M-75

(80 km)
Pitkä kantama (100-200 km)
Kymmeniä pitkän kantaman raketteja

mm M-302

(100-200 km)
Yhteensä: Noin 9,0 00 – 11,000 rakettia
Hamasin ohella myös Fatahin ryhmät ( Al-Aqsa Martyrs' Brigades ja Abdul Qader Husseini Battalions) ovat osallistuneet Grad-rakettien ampumiseen; samoin ilmeisesti palestiinalaisryhmä (eikä Hizbollah) laukaisi muutaman raketin Libanonista. Lisäksi se on nyt havaittu, että mitä IDF ampui alas 14. heinäkuuta miehittämättömän lennokin Patriot ohjuksella. Jota järjestelmää käytettiin nyt ensi kertaa Israelissa 20 vuoteen.
Hamasin toive Tel Avivin pommittamisesta ja merkittävästä israelilaisten siviiliuhrien määrästä kariutui kuitenkin "Rautakupoliin" ja muihin Israelin kehittyneisiin ohjuspuolustusjärjestelmiin (näistä lisää mm artikkelissani Will Iron Dome balance the Hamas Terror? )
Kapasiteettilisä 2: Hyökkäystunnelit
Rakettikapasiteettia merkittävämpi Hamsin uusi strateginen ase on ns. Hyökkäystunnelit Gazasata rajan ali Israeliin. Hyökkääjät rajan ali yllättivät muutaman kerran israelilaiset ja loivat pelon maasodan tulosta Israelin puolelle. Israelin tiedustelun huomaamatta Hamas on mitä ilmeisimmin sijoittanut humanitaarisia avustusrahoja ja rakennustarpeita hyökkäystunneleiden rakentamiseen Gazasta Israelin puolelle. Yksi inventoiduista tunneleista on n 2.5 km pitkä, siihen käytettiin 800 tonnia betonia, sen rakentamiseen arvioidaan tarvitun 100 työntekijää yli kahden vuoden ajan kustannuksien ollessa noin 10 miljoonaa dollaria. Näitä tunneleita on toistaiseksi saatu Israelin hallintaan 13 ja kaikkiaan niitä arvioidaan olevan jopa yli 30.
Israelin osalta hyökkäystunnelit pidentävät operaatio Protective Edge'a viikkokausia jotta kaikki tunnelit löydetään ja tuhotaan jolloin näiden uhka voidaan poistaa seuraavaksi kahdeksi kolmeksi vuodeksi. Hamasille tunneleiden sotilaallinen vaikutus jäi vaatimattomaksi poliittisen vaikutuksen ollessa liki negatiivinen. On ilmeistä että Hamas on investoinut merkittävästi rakennusmateriaalia, työvoimaa ja rahaa tunneleiden rakentamiseen ja nämäkin resurssit olisi voitu käyttää siviiliväestön olojen kohentamiseen.
Siviiliuhrit
Siviilien rooli tässäkin sodassa on perinteinen: Hamas ja muut palestiinalaiset terroristijärjestöt kohdistavat tarkoituksellisesti tointansa israelilaisia siviilejä vastaan ja käyttää omaa väestöään ihmiskilpinä suojelemaan johtajiaan rakettien laukaisupaikkoja sekä kansainvälisessä mediasodassa propakandavälineenä. Tämän hetken konfliktissa tämä siviilien käyttö on saanut yhä brutaalimpia muotoja. Israelin pyrkiessä usein keinoin välttämään siviiliuhreja Gazassa on Hamas todistettavasti useaan otteeseen vedonnut väestöön ihmiskilpien muodostamiseksi johtajiensa ja laukaisufasiliteettiensa suojaamiseksi. Ihmiskilpien ohella Hamas on pyrkinyt kätkeytymään moskeijoiden, sairaaloiden ym siviilirakennusten suojiin sijoittamalla rakettejaan jopa kahteen YK järjestön kouluun.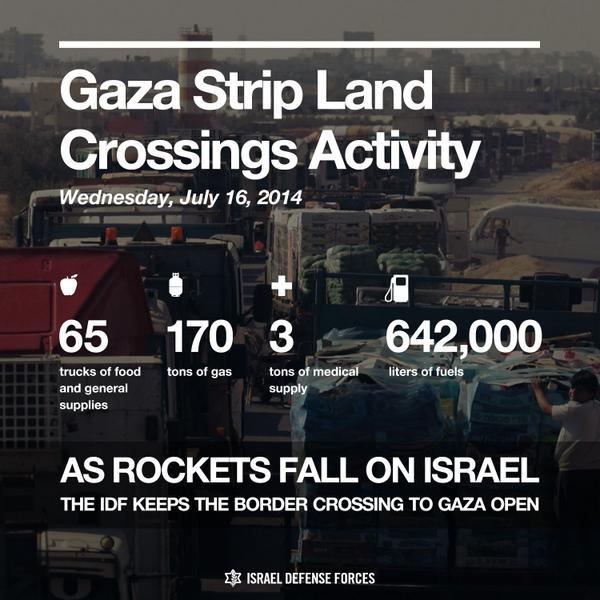 Aiempaan tapaan Israel on pyrkinyt välttämään gazalaisia siviiliuhreja kehottamalla näitä siirtymään turvallisille, alueille ennen ilmaiskuja, varoittamalla iskuista etukäteen puhelimitse, lentolehtisin tai äänipommein. Näitä toimia Hamas on nyt aktiivisesti pyrkinyt vastustamaan houkuttelemalla ja painostamalla siviileitään ihmiskilviksi. (Lisää Israelin toimista Gazan siviiliuhrien välttämiseksi ks esim kirjoitukseni Minimizing Collateral Damage In Gaza Conflict ) Sodasta huolimatta Israel on pitänyt auki Gazaan johtavia ylityspaikkoja josta humanitaarinen apu on virrannut alueelle keskeytyksettä samoin gazalaissiviilit ovat päivittäin päässeet Israeliin erikoissairaanhoitoon kuten aiemminkin. Israel on jo useaan otteeseen hyväksynyt mm Egyptin välittämät esitykset ns humanitaarisiksi tulitauoiksi, Hamas puolestaan ei ja hyväksymiäänikin on rikkonut ainakin pari kertaa.
Aiemmissa Gazan operaatioissa siviiliuhrien suhde kokonaisuhrimäärään on pieni (noin yksi yhteen) verrattuna muihin konflikteihin kuten vaikkapa Balkanilla, Tsetseniassa, Afganistanissa ja Irakissa (jopa neljä yhteen). Kun vaikkapa Kosovossa Naton ilmahyökkäyksissä kuoli yksi siviili kahta hyökkäystä kohden oli luku tämän operaation alkuvaiheessa yksi siviiliuhri 14-15 hyökkäystä kohden. Hamasin valitseman ihmiskilpitaktiikan takia arvioisin siviiliuhrien määrän meneillään olevassa operaatiossa olevan merkittävästi aiempaa suurempi suhteessa kohteena oleviin taistelijoihin.
Kaikki gazalaiset siviiliuhrit eivät lisäksi ole Israelin aiheuttamia. Yli 100 Gazasta ammuttua rakettia on epätarkkuuksien takia pudonnut Gazaan oman väestön niskaan ja on esim vahvoja epäilyjä siitä että yhden YK:n koulun lapsiuhreineen tuhosi yksi tällainen oma raketti. Lisäksi Hamas on myös tämänkin operaation aikana jo teloittanut useita yhteistoiminnasta israelilaisten kanssa syytettyjä gazalaisia.
Hamas menettämässä poliittisen tuen
Hamasin motiivina rakettihyökkäysten lisäämiseen lienee halu korottaa järjestön heikentynyttä profiilia. Varsinkin Egyptin nykyhallinnon toimet ovat poliittisen tuen ohella leikanneet merkittävästi Hamasin johdon taloutta erityisesti salakuljetustunnelien sulkemisen myötä. Tulonmenetykset ovat johtaneet palkkaviipeisiin hallinnon työntekijöille ja sitä myöten kasvavaan tyytymättömyyteen. Profiilinnosto on tärkeää myös suhteessa Fatahiin järjestöjen yhtenäisyyspyrkimysten mahdollisesti johtaessa parlamentti- ja presidentinvaaleihin palestiinalaisalueilla.
Hamasin tultua valtaan Gazassa se esittäytyi tuoreena vaihtoehtona läpikorruptoituneelle Fatahille. Nyt kuitenkin ihmiset Gazassa ovat nähneet ettei eroja juurikaan ole. Hamasin poliittisen toimiston johtaja Khaled Mash'al viettää luksuselämää Qatarissa kaukana tavallisten gazalaisten kärsimyksistä Qatarin ja Egyptin pankkeihin tekemiensä 2.6 miljardin dollarin talletusten turvin. Pääministeri Haniyeh osti 2010 neljällä miljoonalla dollarille tontin ja sen jälkeen kiinteistöjä 13 lapselleen. Lähi-idän Media Research Instituten (MEMRI) raportin mukaan Gazassa ei ole puutetta miljoonan dollarin huviloista eikä niiden ostajista. Tri Ahmed Karima, Kairon al-Azharin yliopistosta toteaakin Hamasin muuttuneen vastarintaliikkeestä poliittiseksi puolueeksi edustaen yli 1,200 miljonääriä.


Uusin Pew kysely osoittaa, että vain 35% palestiinalaisista suhtautuu myönteisesti Hamasiin – 63% Gazassa ja 47% Länsirannalla on kielteinen suhtautuminen. Myös muslimimaailman reaktio operaatio Israelin operaatioon on ollut vaatimaton ja aiempaa verraten Euroopassakaan ei ole kovin laajoja massaprotesteja syntynyt. Medianäkyvyyskin on ollut pienempää Ukrainan ja Irakin viedessä huomiota toisaalle.
Päätelmäni
Ensimmäinen askel operaatio Protecti Edgen päättymiseen lienee palata marraskuun 2012 tulitaukosopimukseen. Tämän jälkeen mahdollinen skenaario voisi olla Fatahin ja Hamaksen yhteishallintasopimuksen täytäntöönpano ja uudet vaalit palestiinalaisalueilla. Mielestäni yhteishallitus ainakin mudollisesti voisi halutessaan ryhtyä jälleen rauhanneuvotteluihin Israelin kanssa vaikkapa kahden valtion mallin pohjalta. Jos kitkerä kompromissi ei tälläkään kertaa palestiinalaishallinnolle kelpaa ovat uhkana molemminpuoliset yksipuoliset toimenpiteet. Israelin keskusta-vasemmistossa ja keskusta-oikeistossa on kannatusta saamassa yksipuoliset alueliitokset länsirannalta Israeliin, on esitetty jopa koko alue C:n liittämistä. Länsirannan alueille A ja B sekä Gazaan palestiinalaiset voivat halutessaan perustaa valtionsa ja aloittaa suhteiden normalisoinnin ja alueellisen yhteistyön tältä pohjalta uudelleen.
Käynnissä oleva sota Gazassa on toistaiseksi päivittänyt toisaalta Hamasin sotilaallisen iskukyvyn kapasiteetin kasvun sekä toisaalta Israelin parantuneen kyvyn vastata tähän haasteeseen. Jos sota päättyy aiempaan tapaan tulitaukoon ja yli 20 vuotta vanhoihin ideoihin pohjaaviin neuvotteluihin alkanee uusi Gazan operaatio kolmen vuoden kuluessa Hamasin hankkiessa uutta iskukalustoa nyt menetettävän tilalle. Jos rohkeutta riittää kompromissin nielemiseen tulitaon ja mahdollisten yksipuolisten toimien jälkeen voisi nähdäkseni pidemmällekin rauhalliselle jaksolle olla mahdollisuuksia.
Aihepiiristä laajemmin pääblogini kirjoituksessa
Peculiarities of Operation Protective Edge .
Joitakin perusteita edellä esitetyille näkemyksilleni on mainitun kirjoitukseni liitteen Materials regarding IDF's efforts to avoid harming civilians  videoissa ja artikkeleissa.